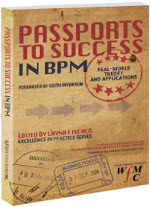 Print Edition Passports to Success in BPM on Amazon.com.: Retail: $39.95.
Weight: 1.0 lb, Size: 7″x10″ Length: 236 pages
ISBN: 978-0-9849764-9-2
Bonus! TWO BOOKS FOR THE PRICE OF ONE: FREE DIGITAL EDITION
On receipt of your PRINT EDITION, look inside on PAGE 3 for the link to a special BONUS!
You get the complete Digital Edition 100% FREE! (even if you buy via Amazon)
Simply register with the special app on Page 3 and instantly download the complete book to your eBook reader or mobile device in one of the following formats: epub, mobi/prc, or pdf.
Is your BPM project set up for success or failure?
Knowing what your BPM success will look like before you even begin your journey will help you achieve it. So will knowing what are the most common causes of failure. We learn more from failure than success, but it's easier, cheaper and quicker to learn from others' mistakes rather than go through the pain personally.
BPM projects fail more often as a result of missed expectations than inadequate technology. In this book you will learn how to create and present a credible business case and plan for success, starting with the chapter "BPM Success Manifesto."
The value of BPM is realized through planning and measurement, and the business case needs to be developed with transparent success criteria and "real world" metrics.
In addition to the highly insightful and instructional white papers contributed by industry thought leaders, this book provides compelling award-wining case studies written by those who have been through the full BPM experience.
These case studies describe successful ROIs and competitive advantages gained through BPM and the writers also generously share solid advice on how to avoid the pitfalls they personally encountered– and overcame.
These examples present great learning opportunities for you (read a lot more inside the book):
Ensure representation from all relevant departments during process study and planning, including the IT department<
Don't attempt to establish perfect specifications of a process without prototyping
Removing paper doesn't mean you have gone "paperless." Make sure to capture data as well as routing data along with documents enables true workflow automation
BPM is extremely fast and flexible which drives the business and IT to try to use BPM for solutions that aren't true processes.
Managing Demand – without a solid governance and prioritization process the BPM backlog can get unmanageable
Don't underestimate the true number of process steps (some may not be apparent in legacy world)
Use an experienced Agile Coach: Projects which "try to be agile" may fail easily. Make sure you have enough experience and commitment of customers, business analysts and developers before you start.
BPM is essential to a company's survival in today's hyper-speed business environment. BPM done right empowers an enterprise to compete at the highest level in any marketplace. BPM done right delivers continuous business transformation.
So it is absolutely essential to understand how to avoid doing BPM wrong:
in fact, your business depends on it.
Important Chapter: Modern Definition of BPM
This year, led by Keith Swenson, WfMC Chair, a number of experts worldwide came together and worked out a comprehensive definition for BPM. This new standard definition is designed to be short enough to use regularly, without gratuitous words.
This chapter also offers substantial clarification on what BPM is – and is not.
More here…